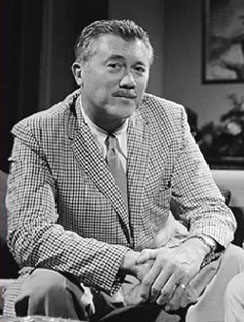 The trend of films to have multiple sequels and become theatrical series is nothing new, as Turner Classic Movies makes clear this month. The cable network is showing entire film series every day this month, ranging from the "Thin Man" detective movies to Andy Hardy films and the "Mexican Spitfire" series that starred Lupe Velez.
Today brings an enjoyable slate of films featuring the gentleman-sleuth the Saint, created by Leslie Charteris and brought to film in several appealing movies during the late 1930s and early '40s. (You may also be familiar with the diverting British ITV series The Saint, which starred Roger Moore in 1962-1969, and probably won't want to remember The Saint film starring Val Kilmer that was released a few years ago.)
The first Saint movie in today's TCM schedule, The Saint in New York (1938),
stars Louis Hayward as a dapper but less physically imposing Simon Templar than is described in Charteris's books and stories. However, the film does a very good job of capturing the hardboiled nature of the book and story series.
Although the Saint is a gentlemanly character overall, both he and the Charteris narratives are much tougher than they have been typically portrayed in media treatments.
As with the James Bond films, the people who have made Saint films and TV series seem to have tended to think that all Englishmen are essentially wimps. That would come as a great surprise to Charles I and Adolph Hitler. Given its tougher approach, The Saint in New York is thus a very good introduction to the character.
Probably the best-known Simon Templar other than Moore's is that of George Sanders, who starred in five of the other six Saint films on offer from TCM today. Sanders is a big fellow but rather, well, pasty and not overly fit-looking. He does capture the Saint's suaveness well, however, and is as charming in these films as Sanders always was when not playing a villain.
The Saint films in which he starred are all solid entertainments. The last film in today's schedule stars Hugh Sinclair, who is competent but little more, as is the film itself, though it's worth watching.
Here's today's schedule of Saint movies, courtesty of Turner Classic Movies:
Saint In New York, The (1938)
The Saint goes undercover to get the goods on New York's mob kingpins. Cast: Louis Hayward, Kay Sutton, Jonathan Hale. Dir: Ben Holmes. BW-72 mins, TV-G
Saint Strikes Back, The (1939)
The Saint helps a young beauty take vengeance on the mobsters who ruined her father. Cast: George Sanders, Wendy Barrie, Barry Fitzgerald. Dir: John Farrow. BW-64 mins, TV-G
Saint In London, The (1939)
The Saint's investigation of a counterfeiting ring uncovers a nest of spies. Cast: George Sanders, David Burns, Sally Gray. Dir: John Paddy Carstairs. BW-72 mins, TV-G, CC
Saint's Double Trouble, The (1940)
Reformed jewel thief Simon Templer lands in hot water when a look-alike smuggles stolen goods out of Egypt. Cast: George Sanders, Jonathan Hale, Bela Lugosi. Dir: Jack Hively. BW-67 mins, TV-G, CC
Saint Takes Over, The (1940)
Reformed jewel thief Simon Templar tries to help a police inspector whose been framed on bribery charges. Cast: George Sanders, Jonathan Hale, Wendy Barrie. Dir: Jack Hively. BW-70 mins, TV-G, CC
Saint In Palm Springs, The (1941)
Reformed jewel thief Simon Templer's efforts to deliver a fortune in rare stamps are complicated by murder. Cast: George Sanders, Wendy Barrie, Jonathan Hale. Dir: Jack Hively. BW-66 mins, TV-G
Saint Meets The Tiger, The (1943)
The Saint infiltrates a small English village run by smugglers. Cast: Hugh Sinclair, Jean Gillie, Clifford Evans. Dir: Paul L. Stein. BW-69 mins, TV-G