Naturally it's tempting for critics to see Borat: Cultural Learnings of America for Make Benefit Glorious Nation of Kazakhstan as a satire against political correctness, as Peter Suderman has gamely attempted to do on National Review Online. When something gives us pleasure, we really want to believe that it is good. But that's simply not the way things work, and it is certainly not the way Borat works. Sacha Baron Cohen, the comedian who wrote and stars in the film based on his HBO TV show, makes no attempt to tie the film's vulgar humor to American "political correctness" codes or any other political meaning.
On the contrary, the film is simply a string of jokes based on the grotesqely ignorant central character's lack of decorum regarding bodily functions, presumably as a result of his being brought up in a primitive, poverty-stricken country in southwest Asia.
What the movie really delivers is lots of jokes about sex, defecation, sex, religion, sex, mental deficiencies, sex, cruelty to all creatures less powerful than oneself, sex, ethnic prejudice, sex, and sex. Borat simply is not political, and there is in fact nothing useful that we can learn from it, despite critics' attempts to shoehorn some meaning into it.
On the contrary, Cohen's jokes about rape, for example, are funny and politically incorrect, but they manifest a lack of decorum, they don't stand back from it and make a point about manners and morals. What point, after all, could those particular jokes make? That some people don't take rape seriously enough? That is not a point worth making, and I don't believe for a moment that Cohen is attempting to do so. He's just being funny.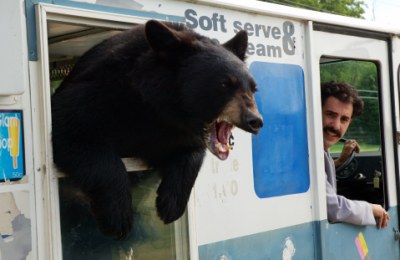 And the film is very funny indeed. It's just a string of dirty jokes, and most of them work pretty well, if the audience with whom I saw the film is any indication.
Yes, we do see, in absentia, the value of manners, decorum, and the flush toilet, etc., but that's not really a lesson for most people, nor does it have anything to do with political correctness codes. It's just funny.
There is an interesting moment late in the film, an extended reference to the film comedy team Laurel and Hardy. I think that the comparison is apt. Although Borat bases its humor on subject matter that would not have been acceptable during the era when the great comedy pair made their movies (and is probably not exactly acceptable even today), it is clear that its makers had the exact same goal as the people behind the Laurel and Hardy movies: to make people laugh, and nothing more.
And there's nothing wrong with that. It's good to have a nice laugh once in a while. We shouldn't have to make excuses for that. And that's good, because there is no excuse for Borat: Cultural Learnings of America for Make Benefit Glorious Nation of Kazakhstan. And I doubt that Cohen wants anybody making excuses for him. So I won't.