Disney's The Chronicles of Narnia: Prince Caspian opened strong at the U.S. box office over the weekend—though not as well as expected.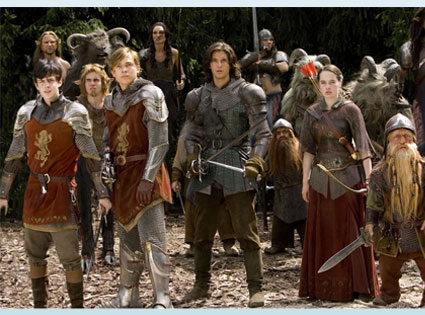 Walt Disney Co's second film based on C. S. Lewis's beloved Narnia books, The Chronicles of Narnia: Prince Caspian, was number 1 in U.S. box office receipts over the weekend, with three-day sales of $56.6 million, according to company estimates.
That's a good deal less than the $80 million industry sources had expected, and is short of the $65 million The Lion, the Witch, and the Wardrobe, the first film in the projected series, took in during its opening weekend in 2005.
Despite these unexpectedly low numbers, it's too early to suggest the film will not ultimately do about as well as originally expected. Warner Bros' $160 million would-be blockbuster Speed Racer took in only $18.6 million during its first three days, as the Iron Man juggernaut has continued to fill theaters, earning more than $225 million in only 2 1/2 weeks. It brought in an impressive $31.2 million last weekend.
In addition to having to lure Iron Man-bound moviegoers, Prince Caspian labored under less enthusiastic reviews than The Lion, the Witch, and the Wardrobe. According to the Rotten Tomatoes website, 66 percent of top reviewers approved Caspian, whereas 76 percent liked its predecessor.
However, lower audience appeal tends to be the situation with second installments in fantasy film series such as these, as they typically do not open as strongly as the first film. That happened with the Harry Potter and Lord of the Rings series.
Although Caspian is darker and more action-oriented than The Lion, the Witch, and the Wardrobe and is burdened with a decidedly uncharismatic performance by Ben Barnes as the title character, it is an interesting and entertaining film with some very good moments. It should do well even if it does not approach the success of its predecessor.
Given that Prince Caspian is widely judged to be the least interesting and effective of Lewis's Narnia novels and not an easy story to bring to the screen, it seems likely that the series will continue strong with the next installment.