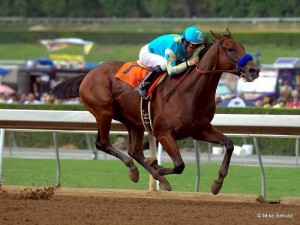 Back before baseball, basketball and football became national pastimes there was boxing and horse racing, the most popular sports in America for the first half of the 20th Century. It's hard to conceive of that now. Every May and June we get a little whiff of what it must have been like back in the day when horse racing was king, when the only three horse races most anyone knows about anymore are run. Of course I refer to the Triple Crown races of the Kentucky Derby, the Preakness, and the Belmont Stakes, which takes place this afternoon.
Bill Dwyer at the LA Times has an excellent history of the Triple Crown, and the amazing horses, and their amazing names, that will put today's race in its very special context. Much of America's attention, including mine, will be on that race because no horse has won the Triple crown, all three races, since Affirmed did it 1978. Three horses did it in the 1970s alone, and I grew up thinking it wasn't all that special. Obviously it is, especially because in the last 37 years 13 horses have won the first two legs, and couldn't get it done at the Belmont Stakes. What makes the Belmont so difficult a test for these horses?
The track called "Big Sandy" is quite literally the biggest in North America and the only time a horse will be asked to run 1.5 miles. It is completely unfamiliar territory to the horse and often unsettling for the jockey, who has to figure out when to move his horse. Too soon, and the horse tires; too late, and the horse can't cover the ground.
American Pharoah is the latest thoroughbred to get the chance to cover this ground in first place and win the Triple Crown. Most American sports fans will be pulling for him. As I've told my kids all their lives, and continue to tell them, the value of a thing is in direct proportion to its difficulty to attain. Thomas Paine, one of America's Founding Fathers, said it well:
The harder the conflict, the more glorious the triumph. What we obtain too cheap, we esteem too lightly; it is dearness only that gives everything its value. I love the man that can smile in trouble, that can gather strength from distress and grow.
Post time is 6:50 EST.