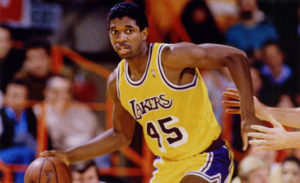 I was born and raised in the Los Angeles area, and also raised a passionate L.A. sports fan, which included the Lakers. The 1980s was pretty much as close as one can get to professional basketball nirvana in L.A. (Oh, how far that franchise has fallen.) There were superstars on the team in those years, like Magic Johnson, Kareem Abdul Jabbar, and James Worthy, but also a power forward from Oregon State who stood out in a completely different way. ESPN's 30 for 30, which I had not heard about until this morning, tackles A.C. Green's story as the Iron Virgin. As the 30 for 30 website puts it:
He played in a record 1,192 consecutive NBA games. As a power forward for the Los Angeles Lakers, he won three NBA championships. But what made A.C. Green truly distinctive was the courage of his convictions. As this ESPN 30 for 30 Short points out, Green was a devout Christian who maintained his virginity throughout his 16 years in the NBA, nine of them spent in the tempting, hedonistic atmosphere of Los Angeles. That didn't stop him from being a fierce, passionate competitor on the court. It just meant that he was someone who, as teammate James Worthy says, "could stay strong and not be broken." It was only after he retired after the 2000-01 season that Green got married.
It's kind of refreshing when the decidedly liberal ESPN does a story about a conservative Christian athlete who is serious about biblical sexual morality, and isn't snide or snarky about it.