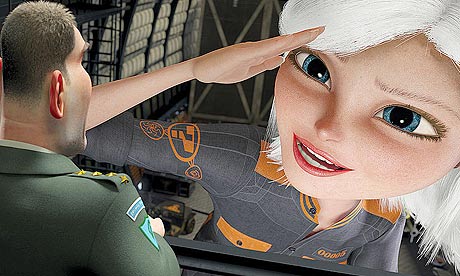 Monsters vs. Aliens just achieved the best opening weekend at the U.S. movie box office this year.
The Dreamworks 3D animated adventure-comedy Monsters vs. Aliens took in an impressive $58.2 million in its first weekend of release, with $32.6 million of it at 3D showings, and the rest in conventional 2D theaters.
The film had been expected to bring in $50-60 million during this first weekend, so it performed at the higher end of expectations. The previous top opener of the year, Watchmen, quickly dropped in box office appeal after its initial week, and reached $100 million last week, a very disappointing performance. It's likely that Monsters vs. Aliens will do much better than that, given that it conveys themes similar to those in Watchmen while providing a good deal more fun and joy than the adult-oriented adaptation of Alan Moore's groundbreaking graphic novel.
Dreamworks is a strong proponent of 3D movies, with studio head Jeffrey Katzenberg having decided to release all the studio's animated films in the format despite and expected cost addition of $15 million per film.
Coming in second was the horror film The Haunting in Connecticut, with a solid $23.0 million, more than distributor Lionsgate had expected. The noticeable Christian imagery, allied with the expected thrills and chills, in the film's trailer and commercials probably strengthened its appeal. Last week's box office winner, the Nicolas Cage thriller Knowing, fell to third, bringing in an unspectacular but serviceable $14.7 million.
Monsters vs. Aliens achieved its strong performance despite receiving a good many lukewarm reviews among mainstream media critics, as audiences once again showed greater trust of the film's commercials and other publicity than of the MSM.