The British-made film Death of a President, which uses computer generation to create a vivid depiction of the assassination of President Bush, leads a significant roster of films critical of the president and his policies at this year's Toronto Film Festival, Reuters reports. The 10-day festival opens Thursday, and in addition to the political issues there will be plent of star power with appearances by Brad Pitt, Sean Penn, Penelope Cruz, Russell Crowe and others. Reuters reports that 352 films from 61 countries will be shown.
Festival offerings will certainly reflect the visceral hostility many in the entertainment industry feel toward the current U.S. president. Reuters reports:
British-made "Death of a President," . . . is one of a number of films with a decided political focus.

The documentary-style film raised hackles last week, as several British newspapers ran photos of the fictional assassination it depicts. The controversy elicited a terse "no comment" from the White House.

But it is not the only Toronto entry likely to raise eyebrows in Washington, particularly with U.S. midterm elections looming in November.

The festival will premiere the documentary "Dixie Chicks: Shut up and Sing," which focuses on the aftermath and fallout of Dixie Chicks singer Natalie Maines' criticism of Bush at a concert in London in 2003.

As well, controversial filmmaker Michael Moore will discuss the reaction he's had to his anti-Bush documentary "Fahrenheit 9/11," and show parts of upcoming release "Sicko," which takes aim at the U.S. healthcare system.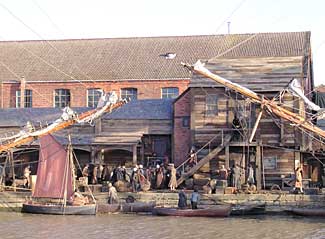 But that is by no means all that the festival entries will reflect, as films such as Christopher Guest's For Your Consideration and Werner Herzog's Rescue Dawn will premiere as well.
The festival will close strongly with a showing of Michael Apted's Amazing Grace, a historical drama about William Wilberforce, the devoutly Christian British parliamentarian who led the nation's crusade to end the slave trade. The film has a strong cast including Ioann Gruffudd and Albert Finney, and an important story to tell.