Today marks the centenary of the birth of the greatest movie star of all time, John Wayne.
Wayne was a huge presence in the motion picture industry, and also a superb actor whose skills were consistently underrated by the critics.
Turner Classic Movies featured Wayne during the month of May, showing many of his movies. But there should be much more attention toward his great career and recognition of the images he brought to American life and culture. The strong, stolid, but usually easy-going and often humorous hero he created is an American archetype, and although he had plenty of models on which to base it, he made it his own. He produced his own films for many years, ensuring that he could tell the stories he wanted to tell in the way he wanted them told.
Wayne was of the right politically, but in the great twentieth century tradition of American classical liberalism. He was a Reagan-style Republican, stronglt opposed to both communism and to big government in general. His characters were almost always on the side of the good, were often a little personally troubled but fought through the adversities, and struggled hard not only to do the right thing but to make their part of the world a little better.
That is a legacy to be proud of, and John Wayne has rightly been seen as an American hero himself. His reputation took quite a few knocks as the devaluation of all values hit American culture and society with increasing strength over the past few decades, but only fools and swime deny his greatness and the truth and goodness of what he stood for.
Here are some of my favorite John Wayne films, which you may find of interest in looking back over his great and well-spent life:
Rio Bravo—Definitely one of my favorite films of all time.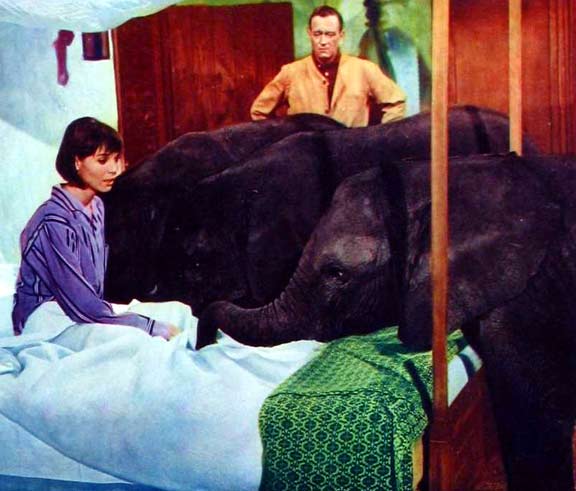 Hatari!—another great Duke film directed by Howard Hawks; Wayne leads a team of hunters in Africa who catch wild animals for zoos. Great fun, impressive action scenes, and very thought-provoking in observing the various characters' relationships and personal problems. It's a pity they don't make them this way today. A must-see. Actually, a must-own.
Stagecoach—a classic Western, directed by John Ford. A disparate group of people are thrown together in a crisis, and the Duke leads them out. It spawned dozens of imitators over the ensuing decades.
Tall in the Saddle—the Duke's character fights political corruption in the old West, while female ranch owner Ella Raines is a strong and effective character.
The Flying Tigers, Sands of Iwo Jima, The Fighting Seabees, They Were Expendable, Back to Bataan, Flying Leathernecks, The Longest Day—nobody was better in war movies than John Wayne. Nobody.
The Big Trail—an early classic Western of the sound era, directed by Raoul Walsh.
The Telegraph Trail—a quickly paced Western from 1933, with some surprisingly interesting insights into economics and politics. Wayne thwarts a greedy businessman who is attempting to stop technological progress (the telegraph) in order to protect his position.
Rio Lobo, True Grit, El Dorado, The Comancheros, The Man Who Shot Liberty Valance—as the Western changed styles and forms during the late 1950s and after, Wayne continued to make superb films and retain his immense box-office appeal.
The Searchers—critics greatly respect this Western for its thoughtfulness and complexity, and Wayne's characterization of the emotionally disturbed protagonist, Ethan Edwards ,is central to the film's success.
The Alamo and The Green Berets—Wayne had nothing but respect for America's fighting men, and he stuck his neck out to defend their honor when it began to be increasingly questioned during the 1960s and '70s. These two films are both excellent portrayals of men in combat and are highly moving at times. Wayne directed them himself, which suggests how important they were to him. Each of the two films has some uncomfortably sincere and direct moments which snide, smug people can deride as hokey, but anyone with any sense of decency and honor can appreciate the real beauties of these films.
The Hellfighters—Wayne portrays a character based on Red Adair, who led a team that made their living in the highly dangerous occupation of putting out oil-rig fires. Although directed by Andrew V. MacLaglen, the film takes the Howard Hawksian approach of using the dangers to reveal the personal character of the various individuals involved.
Donavan's Reef—with one of Wayne's warmest, most appealing performances and a great example of his skill at comedy, this John Ford comedy tangles with some serious issues and wins.
The Quiet Man—raucous comedy, heartfelt, drama, a beautiful setting, one of the greatest fight scenes of all time; directed by John Ford.