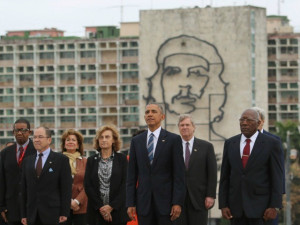 President Obama "palled around with terrorists" back the day, as Sarah Palin memorably put it back during the 2008 election. Now our Deal Leader goes to Cuba and gets his picture taken in front of an image of one of the world's great terrorists, Che Guevara. Che is a cultural icon of hipster liberals, but in fact he was murderous terrorist thug. There is no excuse today not to know "The Truth About Che Guevara":
Che Guevara has the most effective public relations department on earth. The Argentine guerrilla and modern Cuba's co-founding father has been fashioned into a hipster icon, a counter-cultural hero, an anti-establishment rebel, and a champion of the poor. As James Callaghan once put it, "A lie can be halfway round the world before the truth has got its boots on."

The truth about Che now has its boots on. He helped free Cubans from the repressive Batista regime, only to enslave them in a totalitarian police state worst than the last. He was Fidel Castro's chief executioner, a mass-murderer who in theory could have commanded any number of Latin American death squads, from Peru's Shining Path on the political left to Guatemala's White Hand on the right.
These pictures of an American president in front of images of "Castro's chief executioner" are reprehensible. And make no mistake about it, Obama and his handlers knew exactly what they were doing. Images like this of a president of the United States are no accident. And they are disgusting.