A side note in a story about a new study of Hollywood actors' salaries shows that Will Smith has become the most consistently popular actor of our time.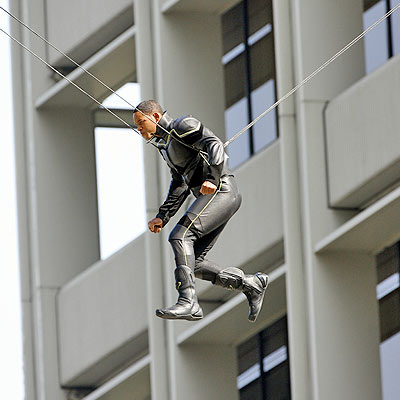 An interesting tidbit turned up in an E! Online story today about the top money-earners among Hollywood movie stars: Will Smith, the number one moneymaker at a gaudy $80 million in the past year, really does earn the mind-boggling amount of money he takes in: with his box-office success in Hancock, Smth became the first actor to have eight straight movies earn more than $100 million apiece at the box office.
That's an astonishing run of popularity. It certainly reflects the actor's talent and charisma, but also suggests sound judgment and a real respect for his audiences, which are not nearly so common as the other two things. In addition, I believe this success with audiences strongly reflects the healthy (and traditional) values reflected in his films, as noted in several previous reviews and analyses on this site.
It's a great lesson in doing well by doing good.