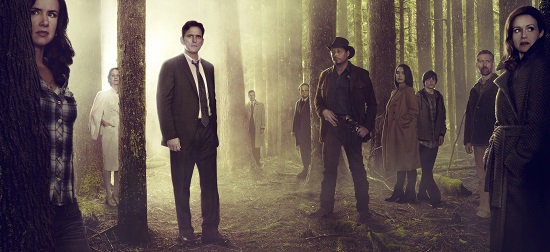 Wayward Pines, Idaho: A place where once-original ideas are recycled for the umpteenth time and actors past their respective primes go to collect a paycheck.
The vibe of FOX's new show hearkens back to the Willoughby Train Depot in Twilight Zone, Chris Carter's gummit agents investigating the occult and aliens in The X-Files, David Lynch's FBI Special Agent Dale Cooper in Twin Peaks and decomposing bodies in Mulholland Drive, and the planned community to excess of M. Night Shyamalan's The Village–the last a rip-off of Margaret Peterson Haddix's novel Running Out of Time. Since Wayward Pines is a Shyamalan production effort, it should come as no surprise the plot elements possess the faint whiff of morning-after cold pizza and warm, flat beer. Sure, cold pizza is a potential treat–note I said potential–but warm, flat beer is irrefutably awful.
It's understood Shyamalan's effort is based on a trio of novels written by Blake Crouch, which this writer has not read, but one assumes that they are better page-turners than the televised adaptation's success in seducing viewers to return after the first commercial break. Suffice it to say, watching the formerly formidable actor Matt Dillon struggle through this silliness with Carla Gugino, Terrence Howard, and Juliette Lewis is a slog. The "mystery" really isn't, and it serves only as a set-up for Lynchian weirdness, which the show never successfully approaches.
Here's hoping the series finds its mojo after the disappointing pilot episode. It'll have to do so without this viewer, however. I get all the "Help! I'm trapped and can't get out" claustrophobia I need in under six minutes from David Gilmour's first solo album.