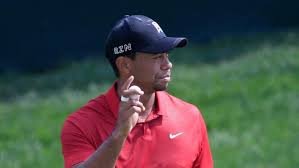 This past Saturday there were two historic events in sport. One captured the thrill of victory, the other the agony of defeat. (If you are old enough the latter phrase sounds familiar–or if not since it's 2015 you can check out Youtube–It comes from the old ABC Wide World of Sports intro of a ski jumper in a terrible wipe out as an example of such agony.) The thrill of victory was the first Triple Crown winner in 37 years, American Pharoah; the agony of defeat was Tiger Woods shooting the highest score in his professional golfing career, an 85 at Jack Nicklaus' Memorial Tournament in Ohio. He finished last of those who made the cut, and shot his highest score for a tournament in his professional career.
For many this is the ultimate in schadenfreude; golf fans or not, they do not like Tiger Woods; some even loathe him. His perceived arrogance, past womanizing, and riches are unforgivable. My golfing buddy is one of those people, the first and last of these just too much for him to excuse. Yet for some of us who actually endure golf, we know what an incredibly humbling endeavor it is. And Tiger Woods is being humbled. I can imagine, kind of, what a difficult trial this is for him to endure. He was so ridiculously, unimaginably good, that this display of his mortality is not easy for some of us to witness. Like the poor woman who was hit in the face with a shattered bat in Boston last week, you don't know if you want to look or turn away.
Yet, I am impressed by how Tiger is handling this, and my respect for him as a person, much more than a golfer, is growing. The New York Times has a nice piece that gets at why I am not one of those who takes pleasure in his misery. He could have easily claimed injury and walked away from his final round at the Memorial, but instead he gutted it out and played, alone, as the man with the highest score in the tournament at that point:
Through 54 holes, Woods was in last place, affording him the experience of playing Sunday as a single — a first for him in his career, he said. Like parents of a child whose confidence is flagging, the roughly 1,000 fans who rose early to accompany Woods on his front nine cheered lustily every time his drive found the fairway or his approach found the green.

"The crowds were awesome," said Woods, who completed 18 holes in 2 hours 51 minutes. "To come out this early and to have that many people support you like that, it was very special."
Through his struggles he hasn't avoided the press, hasn't made excuses, and has handled himself with dignity.  What some would never expect, Tiger Woods is failing with grace, and becoming a better man for it.