Advent is my favorite time of year, for all the conventional reasons, and Christmas music is for me an essential part of it. I listen to it as much as possible throughout the season. (I have found, alas, that this music does not work for me during other times of the year.) Unfortunately, there have not been many truly great Christmas songs composed during the past couple of decades, which means that most of the really good Christmas music is highly familiar to anyone who enjoys the airs of the season.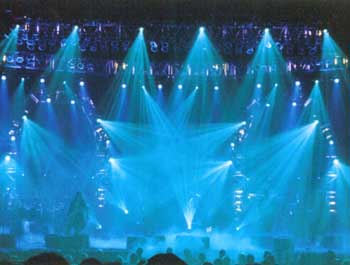 Given that engendering a worshipful feeling is a strong part of the appeal of Christmas music for me, the specter of boredom is of course something to be avoided at all costs. Of course, the true classics never fade. By this I refer, naturally, to the major Christmas albums of Bing Crosby, Frank Sinatra, and Elvis Presley. All of these are quite beautiful and moving. Their makers were incredibly skilled vocal performers, and their talents easily overcome whatever human flaws these gentlemen may have had. The spirit shines through.
Unfortunately, I have listened to these recordings so many times that they now tend to slide into the background rather than capturing my full attention. Hence, they can no longer supply a steady diet of Christmas cheer, though they remain wonderful complementary dishes.
One can, of course, cleanse the musical palate with a good many other Christmas albums of similar sorts, such as those by the Beach Boys, Nat "King" Cole, Louis Armstrong, Ella Fitzgerald, Tony Bennett, the Glenn Miller Orchestra, the Mormon Tabernacle Choir, Mario Lanza, Harry Connick Jr., Patti Page, Oscar Peterson, Mannheim Steamroller, Amy Grant, Dwight Yoakam, and even James Brown, Spike Jones, and Lynyrd Skynyrd. As this list suggests, there is certainly a goodly amount of Christmas music for every taste, and probably an equal quantity for those with no taste whatever. As far as I can tell, in fact, I may be the only person in the country above the age of majority who has not yet released a Christmas album. This is something I hope to rectify soon.
Also enjoyable are some of the countless multi-artist collections with titles like Motown Christmas, Ultimate Christmas, Jazz Christmas, Christmas with the Thus-and-Such Brass, Blues Christmas, Reggae Christmas, Caribbean Christmas, Hawaiian Christmas, Country Christmas, Tejano Christmas, Celtic Christmas (of which there must be several hundred thousand by now), Creole Christmas, New Age Christmas, and A Very Special Christmas. Unfortunately, as with the single-artist releases, the musical quality varies considerably. Moreover, most of the songs on all of these discs are the same ones we've already heard scores of times before, with different arrangements.
As a consequence, in recent years I have gone far afield in search of good Christmas music. I have surely listened to more Medieval Christmas music than King Henry VIII did throughout his long reign, as well as classical Christmas oratorios and concerti, Gregorian chants, and Renaissance era, Elizabethan, Victorian English, Russian choral, Bulgarian folk, and Colonial American Christmas music. There is even a Jingle Dogs Christmas album, in which the familiar tunes are "sung" by a choir of canines. I have listened to it, I confess. Once. I am still recovering.
Through this great journey of exploration, I have found that what works best for me is Christmas music that retains the old melodies but brings something truly fresh to the arrangement. The 1985 release A Christmas Tree, is one of my favorites. It consists of traditional carols and hymns played on authentic nineteenth century music boxes from the collection of Rita Ford, a woman of whom I know nothing but that she has some darn good music boxes. Played at normal volume on a decent stereo, the tunes jingle along cheerily as if they were being played on a collection of miniature bells.
Another enjoyable disc of instrumental Christmas music is A Christmas Album, by the California Guitar Trio, released this year. Most of the songs included here are old standards, but the impressive virtuosity of the three guitarists carries these traditional tunes into interesting new realms. The inclusion of "Merry Christmas, Mr. Lawrence," written by Ryuichi Sakamoto for the film of the same name, adds a nice bit of variety, with its elegant Asian sound.
The two albums by the Trans-Siberian Orchestra also stand out for me. In Christmas Eve and Other Stories (1996) and The Christmas Attic (1998), Paul O'Neill, producer of the heavy-metal group Savatage, tells two original Christmas stories through classic songs and new compositions, with musical performances by members of Savatage and numerous guests. Combining musical arrangements varying from solo acoustic guitar to heavy pomp rock, and dramatic vocals in a variety of styles ranging from classical to gospel to Broadway to metal, each album brings the meaning of Christmas to life in the manner of a modern musical theater piece. Some moments on these discs are really quite moving.
Soun
ds Like Christmas, by the December People, is a similarly eccentric idea that works equally well. Performed by guitarist/singer Robert Berry and numerous guests from classic and modern progressive rock bands, Sounds Like Christmas presents traditional Christmas songs such as "We Three Kings" and "Angels We Have Heard on High" in arrangements recreating the styles of classic prog groups such as Yes, Genesis, Pink Floyd, Kansas, King Crimson, and Emerson, Lake, and Palmer. The musical impersonations are spot-on (although most of the vocalists did not try to mimic their predecessors). Some of the musical allusions, such as the David Gilmour-style guitar line in "Silent Night" and the manic King Crimson-style instrumental break in "The First Noel," are downright comical in their accuracy. Producer Berry's successful execution of the concept makes for a good deal of musical fun while giving the listener serious songs to keep the Christmas spirit flowing.
The recently released A Christmas Heirloom, by the New Blizzard Symphony, has a similarly refreshing effect. The group, a musically eclectic band from Cleveland, performs original compositions by keyboardist Jim Bossard, which in itself solves the over-familiarity problem admirably. The songs are musically interesting, and the lyrics, though by no means poetic, evoke the season effectively. The arrangements are quite interesting, combining strong rhythmic foundations with the complexity of the progressive rock, which is the group's specialty. The vocals are quite appealing, especially guest singer Debbie West's performance on "Offerings," which has a strange, alluring melody line, and Joanne Uniatowski's sweet soprano on the sparsely arranged "Heirloom." This is a CD I will surely listen to many times. Highly recommended.
Thanks to musicians such as these, "that glorious song of old" is new again.
This article appeared on National Review Online on December 21, 2002, and is reprinted with permission.
Follow-up note:
A third Trans-Siberian Orchestra Christmas album, The Lost Christmas Eve, was released in 2004. It, too, is well worth having.