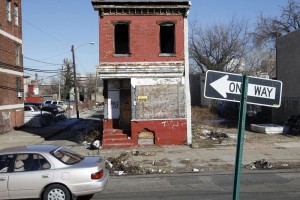 Since Baltimore and its discontents broke upon the national scene a couple weeks ago, the left and the right have been arguing over the causes of inner city unrest in America. For the progressive, the issues are racism and poverty; if these didn't exist there would be no riots. Black anger is completely justified. Conservatives counter that the fundamental cause of the unrest goes deeper, that it is cultural, especially the breakdown of the black family.  I think everyone could agree on one thing: whatever the causes, the problems facing what used to be called the ghetto are deeply complex and not easily solved.
Acknowledging that this is the case, syndicated columnist Jonah Goldberg nonetheless argues  that, "the only way to break the cycle of poverty is to fix the culture of poverty." To add plausibility to this assertion, he cites two Harvard studies that conclude that, "The earlier kids got out of impoverished neighborhoods, the better they did over their lifetimes." The logic he uses seems to me compelling:
Some social scientists argue that peers are more important than parents in determining how kids turn out. Others argue that parents, particularly married parents, are the crucial factor. And everyone agrees that schools, criminal justice policies and racial attitudes are important variables. The debates are about how much weight we should give them.

All of these factors influence each other. In very poor neighborhoods they combine to compound problems. In middle-class neighborhoods, they reinforce each other in positive ways.

In other words, neighborhoods matter because culture matters. Middle-class families have always known this, which is why so many parents move to the suburbs in pursuit of safer streets, better schools and shared values. Maybe parents matter less than peers. But parents have an enormous role in deciding what kind of peers their kids will be exposed to.

The importance of culture — broadly defined to include everything from social norms to legal structures — is largely settled in the global arena. For instance, low-skilled Mexican laborers become 10 to 20 times more economically productive merely by crossing the U.S. border, according to one study. It only makes sense that culture matters in neighborhoods as well.
Why modern liberals who embrace an extreme form of leftist progressivism are so reluctant to admit this is a long and complicated story, but since they control the heights of American culture it is difficult for the common sense of a Jonah Goldberg to make an impact both in public policy and cultural mores in general. Which is why it is so important for conservatives to continue to make the case that culture matters, while at the same time not at all dismissing the seriousness and complexity of issues liberals argue for.