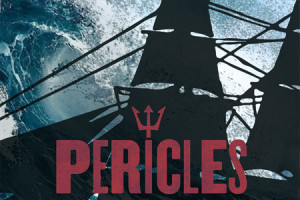 Pericles, an underrated Shakespeare play, is being given a fine performance at the Folger Library in Washington, DC.  Pericles, Prince of Tyre, is the title and main character but it is difficult to think of him in heroic terms.  He is buffeted by fortune and the gods and he is looking for someone to replace his dead father. When we first meet him, he is the latest of a long line of young gallants seeking to win the hand of the princess of Antioch.  When he learns that she and her father are in an incestuous relationship, he flees before the wrath of the king. He winds up sailing from place to place, acquiring a wife and baby girl and mistakenly thinks he has lost both to death.  Wayne T. Garr convincingly depicts the ingenuousness of the young prince and the sorrowfulness of a man who has lost all he has loved. Fortune and Diana, virgin goddess of the moon, finally bring happiness to Pericles, his kingdom, and his family. Human actions matter in the play, especially Pericles' daughter's defense of her honor when consigned to a brothel, but the overall tone is that of the unpredictable power of fortune and the gods in human affairs.
Director Joseph Haq's production captures the adventurous element of the story without losing sight of the various characters and uses song and dance to nice effect. He playfully casts Jennie Greenberry as both the incestuous princess of Antioch and the virtuous Marina, daughter of Pericles. Similarly he casts Brooke Parks as Pericles' wife and as the wicked queen of Tarsus, Dionyza and Scott Ripley as the incestuous King Antiochus and the good king (and eventual father-in-law of Pericles), Simonides.  The play is narrated to a joyful ending by John Gower (an actual English writer) played with a nicely judged good humor and restraint by Armando Duran.
The play runs through December 20th.