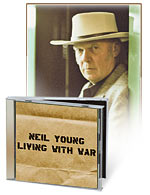 To get a feel for the new political atmosphere in the wake of the Democrats' takeover of both houses of Congress, I've been listening to Neil Young's most recent album, Living with War, recently, which was released earlier this year. As you may be aware, especially if you've seen the superb Saturday Night Live parody of it, the album is a collection of retro-1960s-style "protest" songs opposing the Bush administration and the American public's sheeplike acceptance of his many atrocities (ooops—overtaken by events, Dude!).
A sympathetic appraisal of one of the most talked-about songs on the album, "Let's Impeach the President," can be found here. It captures what some people find to like about the album—its lyrics.
I'm always much more taken with and interested in the sound of a musical composition rather than its words, and Living with War certainly is a disaster in terms of musicality. Nearly all of the songs are musically primitive, as is apparently Young's intention, presumably to ensure that the listener attends primarily to the lyrics.
The latter, however, are just as mundane and uncreative as the music. Consider these characteristic lines, from the ingeniously titled ditty "Shock and Awe":
Back in the days of "mission accomplished"

Our chief was landing on the deck

The sun was setting on a golden photo op

Back in the days of "mission accomplished"

Thousands of bodies in the ground

Brought home in boxes to a trumpet's sound

No one sees them coming home that way

Thousands buried in the ground

Thousands of children scarred for life . . .
Well, you get the idea. The accumulation of cliches such as "the sun was setting," "a trumpet's sound," "photo op," "buried in the ground," and "scarred for life" is truly breathtaking. In addition, the deceptiveness of "thousands buried," when the number of thousands is three (and I agree that one death is too many and tragic) is blatant and will persuade only those who already agree with the author. The rest of the lyrics are dominated by similarly deceptive left-wing cant.
Bob Dylan this certainly is not.
And for Young to allude to Dylan's 1960s protest songs, as he does prominently in "Flags of Freedom," is to invite a comparison so disadvantageous to Young as to be utterly shaming.
It would be nice if the lyrics quoted above were not characteristic of the whole album, but alas they are. It's that infantile: BUSH IS BAD!!!
Thanks for the subtle analysis, Neil.
The biggest problem with Living with War, however, is simply that it doesn't sound like a Neil Young album. Neil Young, despite his annoyingly adolescent, adenoidal whine of a "singing" voice, has put together a good many appealing songs in the past. Unfortunately, Living with War is as musically lame as it is lyrically unimaginative, with the sole exception of "Flags of Freedom," which, although rife with lyrical cliches, does have a nice sound to it and could actually have found its way onto a real Neil Young album.
All in all, Living with War is a dreadful bunch of glop, but it does wonderfully typify where the left is today: cant, slogans, open hatred, and disingenuous nonsense.