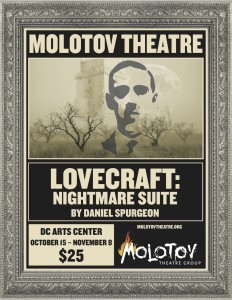 H. P.Lovecraft (1890-1937) is probably, after Edgar Allan Poe and alongside Ambrose Bierce, the most famous  of American horror story writers.  Born and bred in Providence, Rhode Island, this dark aesthete creates a New England that is a very scary place. Highly imaginative, but not the most effective of stylists, his stories are frequently quite gruesome.  Some of them deal with monstrous beings from another dimension who once ruled earth and plan to do so again, exterminating mankind as part of the project.  Lovecraft lacks Poe's genius but wrote a number of effective tales.
Can Lovecraftian horror be transferred to the stage?  Not too easily, it seems. Playwright Daniel Spurgeon  and the Molotov Theatre Group try mightily  and only partially succeed.  Perhaps only motion picture special effects can do justice to those tales that rely upon explicit gruesomeness.  Of the six tales that playwright Dan Spurgeon has adapted, three are explicitly gruesome.  Make that two.  One of the more effective of the adaptations is "The Outsider" about a monster who does not realize she is one.   This is a tale of horrible self-discovery and Jennifer Restak plays the being convincingly. In "Cool Air" and "Nyarlathotep" the gruesome elements are merely narrated  and are only effective to the extent that the actors communicate their own horror.  This  transforms the typical Lovecraftian horror to a more psychological sort and the result is not especially frightening.  The gruesomeness is also offstage in "The Statement of Randolph Carter" but this is in accordance with the original story does not go against its grain.  In "The Cats of Ulthar" the non-horrific video projection does not add to the frightfulness and may even detract from it.  Along with "The Outsider," "The Picture in the House" is the most effectively done.  There is much more dialogue in it than in most of the other tales and Mototov Theatre Group co-founder Alex Zavistovich and  Brian McDermott  create a creepy situation.  Importantly,the ending is changed, making its horror even more  graphic.
I think this production is worth seeing for the three of the tales that work well.  It is being performed at the DC Arts Center in Washington, DC through November 8, 2015.