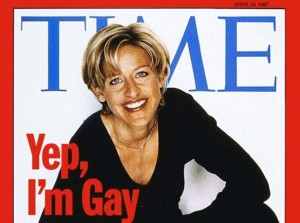 The title of a piece in the LA Times after the gay marriage ruling: "Years before court ruling, pop culture shaped same-sex marriage debate." Ya think!" In fact, film and television have made homosexuality almost ubiquitous, to the point where many Americans think that gays make up 30 to 40 percent of the population. The gay rights movement has said one in 10 is homosexual, but the actual percent is under two. This issue turned Hollywood into a propaganda machine. From the Times:
The Supreme Court on Friday legalized same-sex marriage nationwide. But years before that 5-4 decision, film and TV helped spur Americans' acceptance of gays and lesbians.

"Movies and television have played an immense role in getting us here — and I'm going to take some credit for the TV side," said Michael Lombardo, the programming president of HBO, which brought the gay-themed plays "Angels in America" and "The Normal Heart" to television, and has prominently featured gay characters on such series as "Six Feet Under," "Sex and the City" and "Looking," about the relationships of a group of gay friends in San Francisco.

"TV has been a powerful influence because it brings the lives of gays and lesbians into people's homes and that has increased people's understanding," added Lombardo, who is gay.

Perhaps the watershed moment was the 1997 episode of ABC's sitcom "Ellen," in which star Ellen DeGeneres came out to 42 million viewers (and some advertiser backlash). But there are many other examples of popular film and TV shows that have influenced public opinion.
The authors of the piece make a statement that is at one time absolutely true and absolutely not. After giving an impressive list of gay stories in cinema and television history, they state:
Such moments point once again to Hollywood's unique role in reflecting changing social attitudes.
There is no doubt that Hollywood reflects the cultural zeitgeist, but there is absolutely also no doubt that Hollywood determines it as well. Their statement seems to imply the culture changed before Hollywood did, but the Supreme Court last week would have never invented a "right" to same-sex marriage apart from the influence of Hollywood on the culture. If those of a more conservative bent want to see the culture move in their direction, an "invasion" of Hollywood would be a good place to start.