I've been watching Charles Bronson movies lately. I have no explanation for this extraordinary activity, except that a couple of them showed up on cable, which prompted me to explore some of his other movies on Amazon Prime. I had already seen most of Bronson's crime films from the 1970s onward, but some lacunae remained.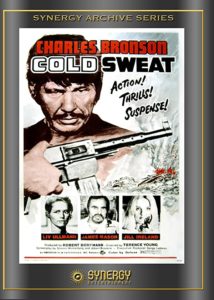 One Bronson film I do not recall ever having heard of before this current expedition is Cold Sweat, released in 1970 and hence one of his earliest crime-story-era starring roles. Judging by the title, one would suspect that it is full of action and eruptions of madness, on the order of Mr. Majestyk and The Mechanic. That is not the case here.
Cold Sweat is an excellent old-school crime drama with emphasis on suspense and character rather than a steady stream of action sequences. There are some very good action scenes nonetheless. An extensive car chase scene through the mountains of southern France is particularly impressive.
The film has the feel of 1950s crime novels by David Dodge, Henry Kane, Leigh Brackett, and Richard S. Prather; which is a very good thing, in my estimation.
Bronson gives an excellent performance as the main character, an American living in France and operating a charter boat service (reminiscent of To Have and Have Not,of course). Like Bogart's character in To Have and Have Not, Bronson's Joe Martin wants only to be left alone to live a normal life, after a rocky time in the U.S. military in Joe's case. In classic crime-drama form, however, his past catches up with him when cronies from a botched crime during the war years escape from prison and seek revenge—and his assistance in a drug-running scheme—for his having deserted them as getaway driver after they unnecessarily escalated a robbery into murder.
James Mason's southern-U.S. accent is unconvincing, but his characterization of the central villain is nuanced, menacing, and brilliant. The other villains are suitably seedy and degenerate, and the characters represent certain types of men of that era very convincingly. Liv Ullmann is very good as Bronson's wife, contra some of the comments at the Amazon page, and Mrs. Bronson, Jill Ireland, is terrific as Mason's hippie consort. The film is worth seeing if only for the chemistry between Bronson and Ireland.
Add to that some difficult moral dilemmas for the characters, which test their mettle; a solid, suspenseful story that moves more slowly than today's crime dramas but is all the better for it by allowing for appropriate attention to the ethical conflicts; plus the aforementioned action scenes, and it all makes for a very good (though not great) crime story.
Cold Sweat is well worth a look.