The first theatrical film based on the American Girl doll series is about to hit U.S. theaters. Could it shame our public schools into doing better?

Critics used to consider movies based on toys to be the lowest of the low, as they were often designed all too obviously to sell the line of toys featured in the narrative. Roger Ebert, for one, habitually complained about this, and most other mainstream critics likewise dismissed such film simply on that basis.
Of course, the source material for a film shouldn't matter a hoot if the movie is good, but typically movies designed to sell toys weren't all that good. The lines began to blur with the release of the Star Wars films, however, and in the past decade commercial tie-ins with Hollywood movies are the norm.
Nonetheless, I can certainly imagine Ebert and others cringing a bit at the forthcoming release of Kit Kittredge: An American Girl, opening in limited release this Friday and nationwide on July 2. The American Girl franchise is a huge goldmine, as young girls across the nation obsessively collect these expensive dolls and their countless high-priced accoutrements.
Yet there is much to like in the American Girl phenomenon. At a time when U.S. public schools have ceased teaching real U.S. history, substituting instead blatant indoctrination in ethnic and sexual victim thinking, the American Girl dolls teach girls what it really was like in America in the past. The dolls represent a varieyt of ethnic heritages, and each is from a different, important period of American history.
Each doll, moreover, is sold with a book (!!!) that tells the story of that particular girl, placing her life in historical context and not papering over the less attractive aspects of our history as she deals with problems characteristic of that particular time. The narratives and other items are designed to appeal to girls aged approximately seven through twelve.
The American Girl company (now owned by Mattel) also produces other books, magazines, and the like, dealing with the same themes.
There are now nine American Girl dolls, and although owning them all would be a huge investment—easily over $1,000—girls can of course play together and learn more about American history as they do so. This seems to me to be a very good thing, especially given the lack of knowledge and respect for history characteristic of contemporary America largely as a result of the hijacking of our public schools by left-wing America-haters.
I think that these dolls and their accessories fill a real, perceived need in American families: a view of America and American history that respects our great accomplishments while not denying our shortcomings. The courage and fortitude the girls show in the stories must also appeal to both parents and girls.
I think that the toys and narratives are also salutary in showing today's wealthy, overfed children just how difficult things were in the past, how well they have it today, and what people have had to overcome to make thing so good. OF course, the odds are that the sweet little things will still be largely spoiled modern American kids, but at least they'll have some recognition that things could be otherwise. They might just learn to count themselves greatly blessed.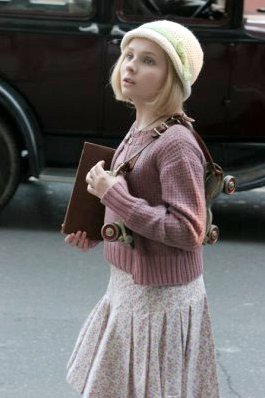 In addition to all the dolls and accessories, three American Girl movies for television have been produced and shown on American TV: Samantha: An American Girl Holiday (2003); Felicity: An American Girl Adventure (2005); and Molly: An American Girl on the Home Front (2006).
Now the first theatrical film based on the American Girl series is about to be released, as noted above, starring Academy Award nominee Abigail Breslin and directed by Patricia Rozema (Mansfield Park). Kit Kittredge: An American Girl tells the story of the title character, who is growing up during the Great Depression and is plunged into poverty when her father loses his job.
According to a story in the Chicago Sun-Times, that harrowing experience was precisely what drew the film's producers to this particular story:
"The producers were drawn to the incredible drama and immediacy of Kit's story—a girl who goes from rich to poor overnight, during the scariest economic times our country has ever seen," says Jodi Goldberg, editorial director for American Girl's historical fiction line.
Kit exemplifies the pluck and optimistic spirit that characterized the United States during its first two centuries, as the Sun-Times story notes:
In her American Girl books, and now in her own movie, Kit deploys optimism and elbow grease as a full partner in her family's fight to hang on to their middle-class lives after her father loses his car dealership during the Great Depression.
The emphasis on good character is intentional in both the stories and the films, as the story notes:
Most young girls today have no personal link to the grim days of the Great Depression, and indeed the original intent of Pleasant Rowland, who began the American Girl franchise in 1986, was to personalize American history for girls.

Each of the characters embodies some admirable trait associated with her historical time, which is explored throughout the series of books built around that girl.

Kit exemplifies "grit and determination"—useful characteristics during the Great Depression, Tripp says. The paradox of Kit's experience is that every catastrophe that befalls her and her family carries the seeds of exciting new possibilities.

"When everything you have been depending on crashes, all bets are off. You have the freedom to reinvent yourself," Tripp says.
Given those values and valuable lessons, one hopes that the film will carry them over effectively. According to the review in Variety, Kit Kittredge: An American Girl does just that:
Plucky, likable and determined to succeed, much like its heroine, "Kit Kittredge: An American Girl" is a throwback to the kinds of movies they don't make anymore. Anchored by a fine performance from Abigail Breslin, this wholesome, engaging entertainment offers something for viewers ages 7 to 107 and, given the popularity of the "American Girl" brand, should be an especially hot-ticket item for elementary- and middle-school girls. A platform release should benefit from positive word of mouth among "Kit's" target demo and, just as importantly, the target demo's moms, yielding strong returns.
After the strong performance of last year's Nancy Drew, perhaps a successful box-office performance by Kit Kittredge: An American Girl will teach Hollywood producers and the book publishing industry that American children (and their parents) really do want high-quality, mature stories that teach positive values.
It's possible. Since the kids aren't allowed to learn this stuff in school, the visual media and book-publishing industry should step in to fill the breach.
They could make a fortune, after all, just like the people behind the American Girl empire—and do well by doing good.