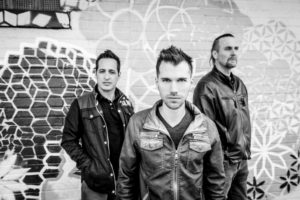 In case you haven't heard, a new power trio just released their eponymous first CD: The Fringe. The band could be considered a power trio (drums, base, and guitar) for the 21st Century because throughout the well-crafted and very well-produced album (it was recorded and produced at Sweetwater Studios in Fort Wayne, Indiana), one can hear influences from every decade of the past 50 years. As my 14-year-old son, a budding rocker himself, and I listened we came up with at least these:
The Beatles
Rush
King's X
Tears for Fears
Government Mule
Queens of the Stone Age
With a shout-out to No Doubt
And I confirmed with the drummer (who I know fairly well) that there is even cowbell! And of course, WE NEED MORE COWBELL! (You'll find that on track 6, "My Greatest Invention.") This amalgamation of influences turns into something delightfully unique, and at times very heavy, and I like heavy.
The band includes drummer Nick D'Virglio (late of Spock's Beard, and currently Big Big Train), base player Jonas Reingold (Flower Kings), and guitarist and lead singer, Randy McStine (Lo-Fi Resistance). While D'Virgilio took over lead vocal duties after Neal Morse left Spock's Beard, McStine does most of the lead vocals for The Fringe. The former's backing vocals fit nicely with the latter's, and give the songs a nice resonance; the harmonies throughout are beautiful (to which Reingold also contributes).
The influence of another power trio, King's X, is probably the dominant one on the album. I wasn't surprised that McStine is a big fan of the band, and has had bassist and lead singer, Doug Pinnick, play on his albums. Although I've read he can shred with the best of them, he has set the shredding aside for soulful, bluesy riffs a la King's X's Ty Tabor. On the drums, D'Virgilio is amazing per usual (I say with perfect objectivity), but he doesn't cease to surprise at numerous places on the CD. The first song, "You," is something special; a driving drum part I don't think I've ever quite heard the likes of before. And he drives the pocket as well as ever. I'm not familiar with base player Jonas Reingold's work, mostly with the Flower Kings, but he's obviously a great fit with the other two, and fills up the bottom nicely.
You can catch their video of a song called "A Second or Two" at Youtube.
All told, a masterful first try from this power trio. Let's hope there are many more.