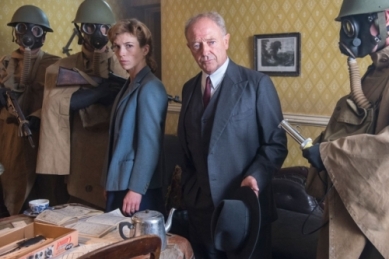 Here's good news for mystery fans and others who appreciate intelligent TV dramas: Acorn TV has announced that a new season of the acclaimed British TV crime drama series Foyle's War will be broadcast on the streaming service beginning February 2 of next year.
As I have noted earlier (e.g., here and here), Foyle's War is an excellent tv series that deals with serious issues in a mature and intelligent way. Created and written by ace British mystery author Anthony Horowitz, the first few seasons of the show took place in the south of England during World War II, as police detective Christopher Foyle solves mysteries centering on wartime matters such as smuggling, espionage, desertion, and the like. The show vividly depicts the government-imposed economic austerity of the time, and it takes a decidedly understated attitude toward wartime appeals to patriotism.
Foyle's War is neither gung ho for war nor pacifistic. Horowitz and his writing team keep their focus on how the big events affect people, which gives the human stories greater resonance while ensuring the focus is on manageable problems and ideas. Setting a mystery series in that particular time and place afforded Horowitz and his team an opportunity to explore issues of the relationship between people and their government which are of great interest today both in the UK and here in the United States.
Beginning with series seven, which premiered in 2013, the series moved into the postwar era, with Foyle now working for MI5, the British espionage agency. These episodes do a good job of conveying the politics of the time, and they avoid suggesting moral equivalence between Britain and the Soviet Union even as they acknowledge dubious actions on the part of the British government.
Here too, as in the World War II story lines, the strongest sense one gets from Foyle's War is of a people struggling to establish rule of law in a nation torn by economic mismanagement and foreign attacks. It's great to know that Acorn TV will bring this to U.S. viewers soon.  In the meantime, the first seven seasons are available on DVD and instant video or by streaming at Acorn TV, which is available on the web, ITunes, and Roku.